Career coaching provides tangible results!
How do I know that it works? Check out these client testimonials from some of our past clients. They share both the results they saw and how they found working with us!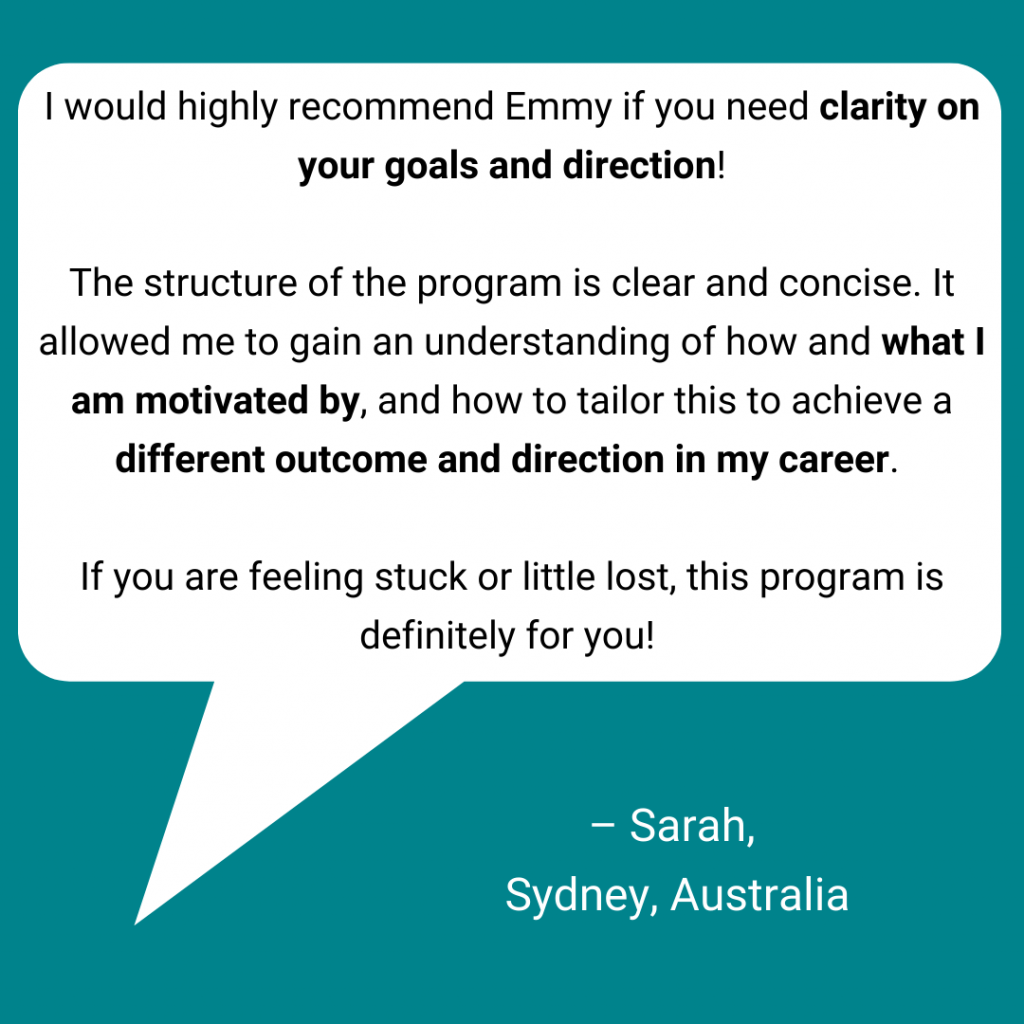 I loved working with Emmy, her professionalism is second to none. I came to her very confused about the next step in my career and somewhat stuck.
After a few sessions working with Emmy we put a plan together, and in much shorter time than expected an opportunity opened up for me.
Re-focusing my career and re-evaluating my values alongside Emmy opened up the next opportunity as we explored the why, the what and the how. I also love how is not about the short term but rather a long term view on your own career. – Pedro, Melbourne, Australia
I attended Emmy's workshop at a period of my life when I struggled with concentration and information attaining. Even in this state I found Emmy's way of presenting information and engaging the participants to be super accessible. I could easily follow along, and though simple exercises Emmy guided us to unraveling our core needs and values. Emmy's brilliance comes through this simplicity and I was left wondering how it can be that I have always been confused about these things in the past. I highly recommend this workshop! – Therese, Sweden
I feel deeply fortunate and grateful to have had the opportunity to go through the transition program with Emmy. The support and dedication she provided me, in and out of our sessions, challenged me to go well beyond what I had expected.
Her program taught me a great deal of important and meaningful insights into my own inner workings and I feel confident that I have the resources and foundations to construct a more fulfilling life; I would not have been able to do it without Emmy's guidance.
I would recommend Emmy to anyone considering any type of personal or professional development, her program is invaluable! – Mark, Melbourne, Australia
Working with Emmy has been so very rewarding! I have learnt so much about myself, been challenged more than I thought possible, I've grown and most importantly, I'm in a much better place than before.
Emmy was a coach, mentor and friend all rolled into one. She was 100% present EVERY TIME and I felt she truly listened and offered insights, tools and support to help me work through my challenges. If someone had told me how different my life would look and feel 6 months ago, I would have found it hard to believe.
I'm extremely proud of how far I've come and I'm extremely grateful to Emmy for helping me get here. I can not recommend Emmy highly enough for anyone looking to make a SIGNIFICANT, LASTING change. It's an investment in yourself that you deserve! – Kathryn, Melbourne, Australia
This program helped me to define my strengths and gain the confidence to apply them more often and more effectively. At work and in my personal life, I'm now finding it easier to navigate relationships and get the best out of myself.
Emmy's enthusiasm, insight and diligence throughout the program made me want to learn more. I looked forward to each session and now want to continue on the journey of discovery Emmy's put me on. I wish more people could have the opportunity to get to know themselves and those around them like I just have! – Michael, Melbourne, Australia
Emmy was recommended to me by a friend and from the first time I spoke to her, I knew she would be great for me. She has the most amazing energy, is extremely supportive and has helped me discover what I need to do to make a positive change in my life.
Emmy is not only an incredible career coach but she also went the extra mile to help me deal with things from my past that were impacting on my self confidence.
I am very thankful for the work we have done together and for the insight and advice she has provided me with. – Pil, Melbourne, Australia
For those of you on the fence, you can trust Emmy and the process she has created. Already committed to making change before I met Emmy, I started talking to knowledgeable people, watching documentaries & Tedtalks, attending courses & workshops, and listening to audiobooks.
I knew that would achieve change and was skeptical that a coach was even necessary. Looking back, it has been a crucial component in my transition. Emmy has facilitated my journey in ways that I wouldn't have thought. Sessions are personalized, adaptive, pointed, insightful, and can bring something to the table that books and documentaries won't: connection, compassion, momentum, and accountability, to name a few.
There is an overwhelmingly massive amount of personal growth material available to consume. Emmy has already spent years of distilling information and experience into a process that can fast-track your growth. She is a great coach and a wonderful person. Thank you Emmy. – René, Melbourne, Australia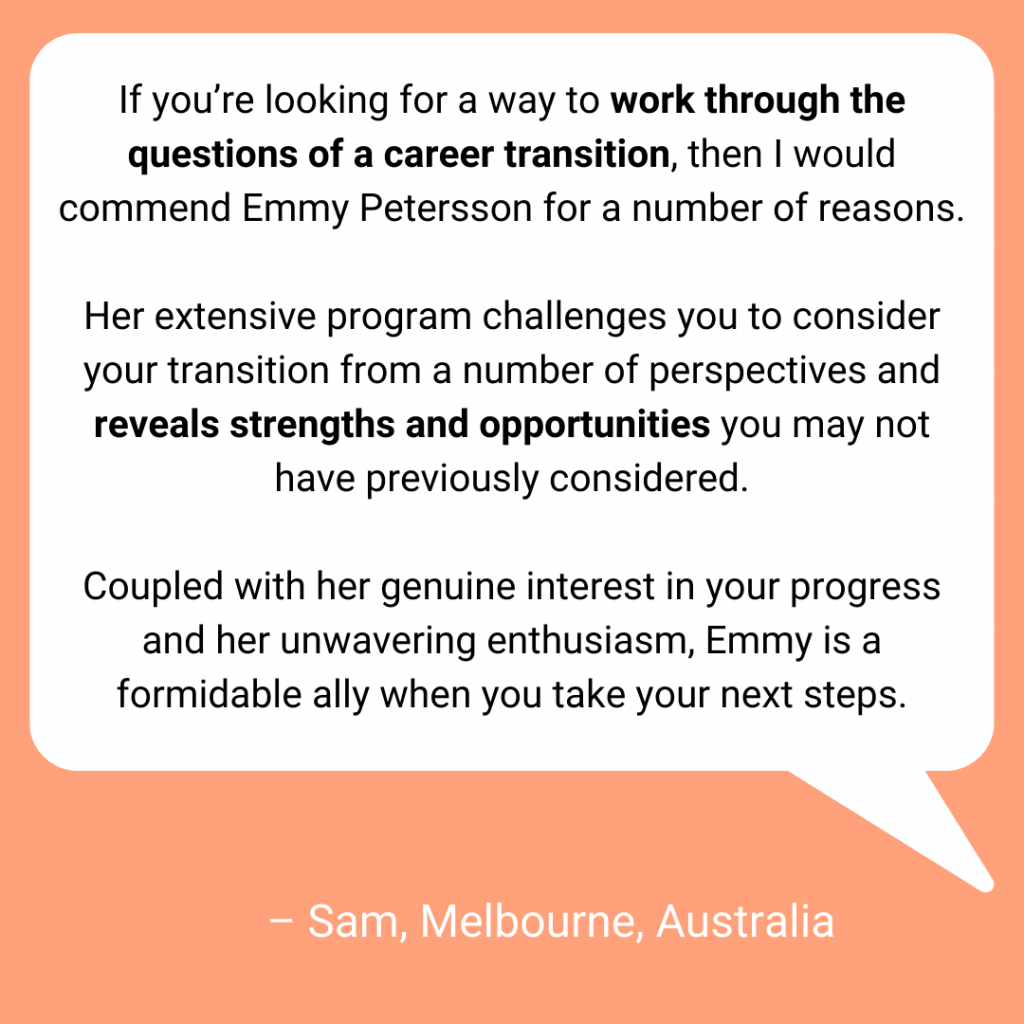 Prior to starting coaching sessions with Emmy, I was in a very dark place. My long term relationship had ended and was causing me great stress and anxiety – my world had turned upside down completely. On top of this, I was stressed with work and I was my motivation levels were low and my attitude was negative – it was debilitating.
Over the last 5 months Emmy has been incredibly encouraging and positive. As a coach, she has taught me tools that I can apply to my everyday life and I've learned how to cope with daily "stresses" with ease. I finally learned to ask myself the question "How does this serve me", break down the greater problem at hand and allow myself "me time" without feeling guilty.
My outlook is more positive than it has ever been and my personal and professional life is in a much better position.
A huge thank you is owed to Emmy for her time, patience, persistence, encouragement, tireless effort and endless positivity. I would highly recommend Emmy to anyone. – Sarah, Recruitment Consultant, Melbourne
I would like to thank Emmy for the coaching sessions and the online relocation program we have had, I highly recommend her!
Her method is very effective, helping me to focus my energies and providing many helpful tips to achieve my desired relocation goals in my personal and business life.
The online relocation program is very well structured and Emmy was always willing to help and clarify any questions I had! – Marcos Albuquerque, relocating from Brazil to Australia
I really enjoy working with Emmy. She is a very knowledgeable coach, full of great insights and tools to help you realise your full potential and how to best make use of it in life.
With Emmy's help I've learned a lot about myself and what I need and can do to be at my best. I can absolutely recommend her services! – Johanna, Relocating from Sweden to Australia
When I started the coaching programme with Emmy, I was holding on to negative past experiences, uncertainty in dealing with certain types of relationships and relating to aspects of myself that confused or worried me.
My experience of our sessions was very positive. Emmy skillfully guided the session and seamlessly took us both on a journey of working through the issue at hand using various coaching techniques.
After only three sessions, I've noticed that several of the issues we discussed have simply vanished. I feel lighter and better equipped at dealing with difficult situations. I've been to see counsellors at different times in my life, and this is definitely the quickest, and most long lasting, results I've seen.
If you have the opportunity to work with Emmy – do it. She just may change your life! – Woman, 32, London United Kingdom
When I first contacted Emmy my work life had taking a turn, not in a positive way. This was my first experience when it comes to coaching and it was really positive. It was interesting to start thinking in a different way and see my daily thoughts and routines in a new light. To have started to develop the ability to see things in new perspective is mind boggling.
Emmy is easy to talk too and has a positive and problem solving attitude – and that was something I really needed. I feel more positive and structured and I have received good "tools" to keep this process going.
And also I'm surprised that it only took few sessions to notice the difference. I would recommend this to anyone who has found themselves in a rot or just want to see life in a different way and need a extra push to be able to change. – Evelina, Sweden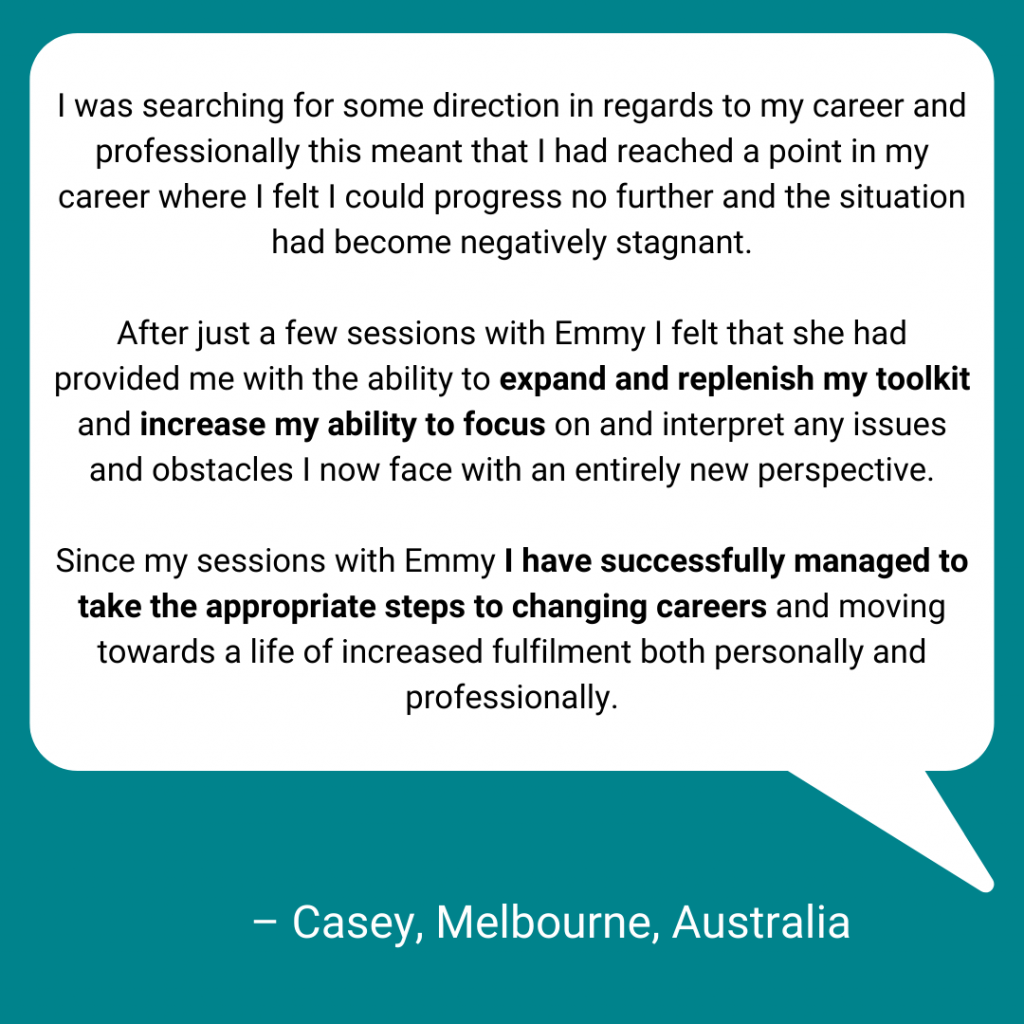 The relocation program is fun, interactive and packed with useful information – even for an experienced traveller as myself. Emmy is excellent as she guides you through the most difficult questions and feelings a relocation will stir up.
From the support given in the videos and tools in the workbook, I have managed to make this overseas move a successful one! I would highly recommend this program to anyone who wants to make their new adventure a great experience. – Anna, Relocating from Sweden to Australia
I highly recommend Emmy as an awesome guide and support in the creation of change and growth in your life.
I appreciate most her willingness to go the extra mile and ask me the questions I was too afraid to ask myself, and the belief she consistently showed in me and my goals. With Emmy's help I have had so many positive changes in my career, my life and my relationship with myself!
Thank you Emmy for your honesty, caring and 100% commitment to me and my journey. – Janine, Geelong, Australia
Over the last months I was very unsatisfied with my life and I was not motivated in my job. After having given a lot in my previous relationship and having received a huge disappointment, I was completely closed and not interested in meeting new people. I had the impression that my life was not leading to anything concrete, but at the same time I was not able to tell myself what I wanted to change and how.
I have always been skeptical of psychological therapies and deep analysis about the past, since I think that what happened is gone and cannot be changed. I definitely found in Emmy the right balance to help understanding the reasons behind some behaviors and identify concrete actions to change what I don't like.
In only 6 sessions I was able to gain some incredible tools I can use every time I need some inner strength and to connect to my goals and what I want. With very practical visualization exercises Emmy has helped me understand what I should focus on and how to get where I see myself in the near future. – Martha, New York, U.S.A
I would highly recommend Emmy if you need clarity on your goals and direction!
The structure of the program is clear and concise. It allowed me to gain an understanding of how and what I am motivated by, and how to tailor this to achieve a different outcome and direction in my career. If you are feeling stuck or little lost, this program is definitely for you! – Sarah, Sydney, Australia
Emmy always had answers to my questions and she is a very competent coach. She is very passionate in her work to help others and therefore she always spreads good energy. I highly recommend everyone to join her 6 session program, it's one of my best decisions ever. – Isabella, Melbourne, Australia
Coaching with Emmy gave me invaluable insight into how I work, what I truly value and how I can use this knowledge to create a life where I feel fulfilled.
I had some knowledge of goal setting and what I wanted in life before talking to Emmy, but she really helped me hone in and pin point what specifically I need and gave amazing suggestions on how I can best do that.
Her enthusiasm and her insight makes Emmy an absolute pleasure to work with. – Leah, Melbourne, Australia
Emmy helped me uncover some blocks I didn't know were there and was able to hold the space for me to explore with such grace and professionalism.
I would highly recommend her if you are in any kind of transition in life or feel stuck. She is highly skilled and really knows her stuff, as someone who does a lot of personal development myself and who coaches others in my own practice, Emmy really impressed me. – Tathra, Melbourne, Australia
If you're looking for a way to work through the questions of a career transition, then I would commend Emmy Petersson for a number of reasons.
Her extensive program challenges you over a number of sessions to consider your transition from a number of perspectives and reveals strengths and opportunities you may not have previously considered.
Coupled with her genuine interest in your progress and her unwavering enthusiasm, Emmy is a formidable ally when you take your next steps. – Sam, Australia
Being coached by Emmy was absolutely life changing. As a coach myself, I can say that you can't see the spot you are standing on and until you do you can't change it.
By listening and sharing suggestions, Emmy was wonderful at being able to get out of me insights and understanding of where my fears and beliefs really stood. Her ability to adapt to the situation, to be playful and caring enabled me to change, to reframe and to give different meanings that became so much more empowering. She helped me discover who I really am and I am so thankful for that.
I highly recommend Emmy for anyone who is ready to get the results they really want. – Nathalie Gevinti, Melbourne, Australia
Wow is the word I would have to use. Since having just two sessions with Emmy, I feel completely different. It's actually hard for me to believe that I even had blocks when it came to money. I can't feel any resistance to going ahead and creating the abundance I deserve now. They have vanished.
Emmy made me feel so safe which exactly what I needed to be able to dig deep and get rid of what was holding me back once and for all.
I feel blessed that I was put in contact with her and can only highly recommend her coaching abilities.
Thank you from the bottom of my heart Emmy. – Leanne Zecchinati, Australia
A BIG thank you to Emmy for our 6 coaching sessions. Your coaching has pushed me to tackle a bunch of different things in life – in a different style than I normally would. At times the projects we set were challenging and frankly I sometimes didn't want to do them. However once completed I felt relieved and extremely happy.
I've come a long way with my fitness, relationships and finances. In our 6 sessions I have managed to kick a huge fitness goal and my perception of relationships has been defined. Thank you for being one of my guiding stars Emmy! – Arlene, Melbourne, Australia
I was searching for some direction in regards to my professional career and felt that I lacked the time and incentive to dedicate to moving forward. Professionally this meant that I had reached a point in my career where I felt I could progress no further and the situation had become negatively stagnant.
After just a few sessions with Emmy I felt that she had provided me with the ability to expand and replenish my toolkit and increase my ability to focus on and interpret any issues and obstacles I now face with an entirely new perspective.
Since my sessions with Emmy I have successfully managed to take the appropriate steps to changing careers and moving towards a life of increased fulfillment both personally and professionally. – Casey Faganel, Melbourne, Australia
As someone who had previously never considered working with a coach I would now recommend it to anyone who wants to take their life from "good" to "great" and beyond!
I found the process of working through different ideas with Emmy to be highly beneficial. She suggested different ways to think about things, provided practical tools to help the process and offered valuable insights. The changes I have implemented as a result of my sessions with Emmy have not only made a difference to my day-to-day life now but will continue to be valuable in helping me achieve my long-term goals as well.
Possibly the best part about working with Emmy, though, is her relentless energy and positivity. She excels in creating a relaxed atmosphere and fostering openness and clear communication. – Tom, Sydney, Australia
Before my sessions with Emmy, I felt stuck, less in touch with my authentic self and I was not being able to move forward. I knew I had to renew my thoughts patterns and Emmy reconnected me with my deepest values. She showed me through our consulting sessions that some of my previous life choices were not aligned with the real 'ME' therefore I had to redesign my life and find alternatives.
I have now implemented the learnings and I will always be grateful. Emmy was supportive, friendly and extremely professional throughout the process. – Viviane Laigle
I came to Emmy at a difficult intersection in my career, I was unsure of what steps I could take to progress from my current position and didn't know how I could move into a more of a leadership position with my organisation. Emmy was able to help me deconstruct the issue and identify the tools I needed to progress. We then work through an action plan to overcome the challenges facing me, providing me short and long term goals.
Even after our first session, I noticed an immediate change in how I worked professionally and felt more empowered to make choices, lead a team from junior position and drive projects in the workplace. I've also noticed improved personal relationship as Emmy's coaching has provided me with the tools to identify and work the best with the different personalities I come across day to day. – Stuart, Melbourne, Australia
My first contact with Emmy was when I moved back to my home country after I was living for nearly five years abroad. I was a bit scared of how I would feel returning to my home country and I wanted to be prepared for this new (old) chapter in my life. I really loved Emmy's knowledge about different techniques, approach to issues that I raised and energy.
Interestingly, I contacted Emmy because I was seeking for some support as I was moving back to my home country. However, after this topic was clarified for me, our sessions were filled with a lot of career advice and exploring different techniques – and I got much more out of our sessions than I expected or was hoping for at the beginning!
I feel empowered as I know that I can trust the decisions that I make. I learned lots of great skills which I am excited to explore now and to kick some goals. I would recommend Emmy to everyone who wants to learn great skills that are empowering and that help yourself to become your best version. – Tanja, Relocating from Australia to Germany
Emmy was recommended to me by a family member and after travelling the world for a year money was tight… but she came so highly recommended I just had to meet her.
Even from our initial meeting I knew she was going to help guide me to some big changes in my life. She gave me the tools and guidance to help me see my potential.
I knew I had something special in me but I just couldn't figure it out, but Emmy really helped guide me along that journey and now I feel like life has really begun. Your life is made up of time, not money, and Emmy is definitely worth spending that time with. My only suggestion for anyone doing this is don't half ass it, bear your soul during your sessions and you will reap the rewards. She is someone you can definitely trust. – Craig, Australia
I suppose many people may go through a period of their life when they wouldn't be very happy with what they do.
Having a have a professional and specialized review, using today's knowledge and methods can give them a very good observation and analysis to find out where they are in a big picture and what steps they need to take to be correct what they are not happy and move toward their goal.
Emmy, who is a very personable career coach at The Bridge Coaching, can provide high quality services to have a proper look at your current situation and find out what to do next. – Pouya, Australia
This coaching program with Emmy has been extremely valuable for me. Her well-structured program made it clear to me what things I needed to do additional work on and gave me great step-by-step instructions on how to tackle those areas. Everything went smoothly and was very well organised.
On top of that, Emmy has this talent of giving instructions clearly and making sure I do my homework. I felt very energised after each session.
To summarise, this coaching program has given me a lot of clarity about my life and about the direction where I am heading. Thanks! – Henrik